So much shifted in 2020. Schools closed and kids learning online. Offices closed and adults working from home. Travel and adventure kicked to the curb. Gyms and fitness classes closed. Theatres and outside entertainment closed. And now that our home environment has become the everything, for every family member, we're even more aware of the things that need improvement to complement our new lifestyles. So out of 2020, more dreams and plans emerged to make our home a better place to be.
As a premium home builder, we noticed that certain trends in remodels and new construction were already underway, even before the pandemic. Here are some home trends that we believe are now here to stay.
1. Maximizing the outdoors within the home
When our lifestyles are pandemic-constrained, our souls yearn for a feeling of expansiveness. So, bring the outdoors inside! Modern floor-to-ceiling windows have risen back in popularity in recent years, strengthening that beautiful connection to nature. And even on a rainy-Portland day, bringing the light and greenery into the house brightens our living space, grounding our sense of home beyond the walls.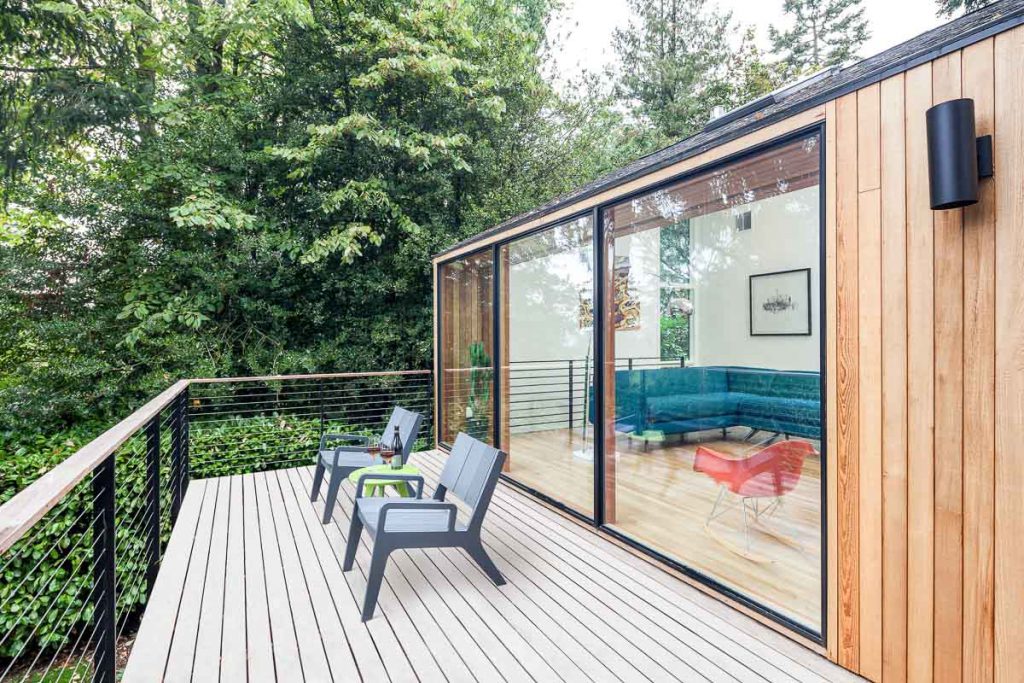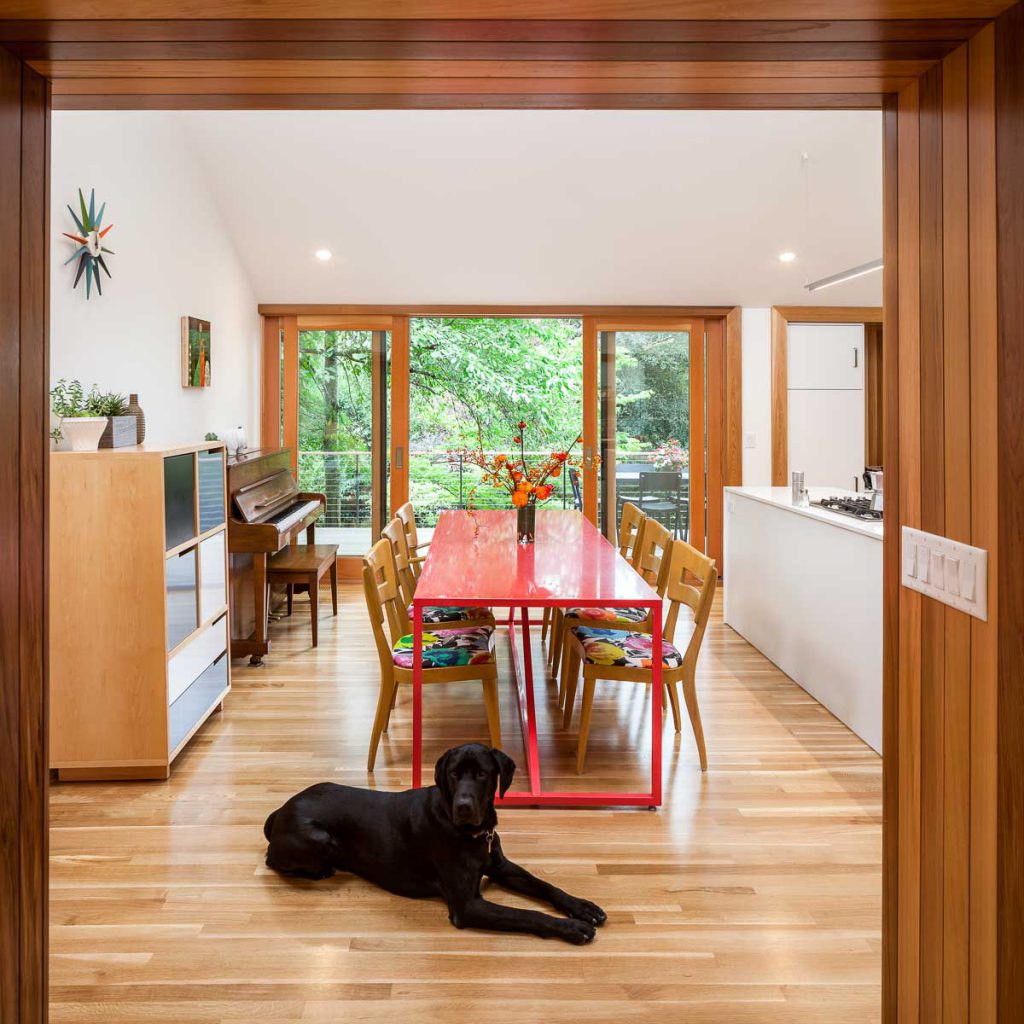 2. Outdoors as part of the living space design
We Northwest home dwellers have traditionally celebrated the good weather brought on by late spring and summer by maximizing our outdoors with full enthusiasm; for dining, relaxation, and entertainment. However, since 2020, outdoor spaces are being used as safer spots for socializing, even with masks. So, during inclement weather, those with outside rooms with heat and protection from the rain have more choices. When we experience these spaces, we want them too!
As builders we have seen; louvered patio roofs that can close into a waterproof roof, sliding glass exterior walls that open to the outside, and indoor floors that are flush with outdoor decks. Outside heaters are flush-mounted into ceilings, drawing the eye away from utility and focusing the eye on the aesthetic parts of the space.
Landscape projects continue to be a focus, especially spaces that are low maintenance for busy families.
3. Home oasis and spa living
Bathrooms are a place to get away from it all, but many bathrooms lack that certain draw. Now they are becoming luxury destinations; a place you can go for transformative self-care without driving to a day spa or leaving town for the next vacation.
At Hamish Murray Construction Inc., we have seen more installations of rain shower heads, heated towel racks, and heated floors. Zero-edge or "curbless" showers have become the standard for premium bathrooms. Also, saunas are on the rise. Strategic placement of skylights and windows is getting more attention so that it creates that desired ambiance while luxuriating in the tub.
We believe these extra spa-like touches can transform the typical bathroom into an oasis, restoring energy and soothing the soul. Something much needed in 2021!
4. The home office and other clearly delineated spaces
With the pandemic, the commute from "home" to "office" has gone from leaving the house to walking from the kitchen to the best spot for privacy and quiet. But since 2020, family needs and sounds are competing. Family members are seeking better solutions for get-away spaces for work, kids' online learning, entertainment, music, or multi-generational families living together.
The telecommuter is on the rise: employers have noticed employees are staying productive. Many business owners or employees are happy to not commute, and families are merging work and home life under the same roof or property. For our recent construction projects, we have noticed that clients are choosing residential offices with a separate entrance, or even a separate building such as a garden studio, where possible. Video meetings, such as Zoom, are driving layouts for interior office design.
Families are also questioning how to create better lifestyle choices so that work does not consume them, and there's still time to enjoy the simple pleasures of life.
Acoustics have become more important for separation of activities, such as rooms that buffer the sound of large-screen entertainment or music listening, or for practicing instruments. More families are creating spaces for multi-generational living, and Auxiliary Dwelling Units (ADUs).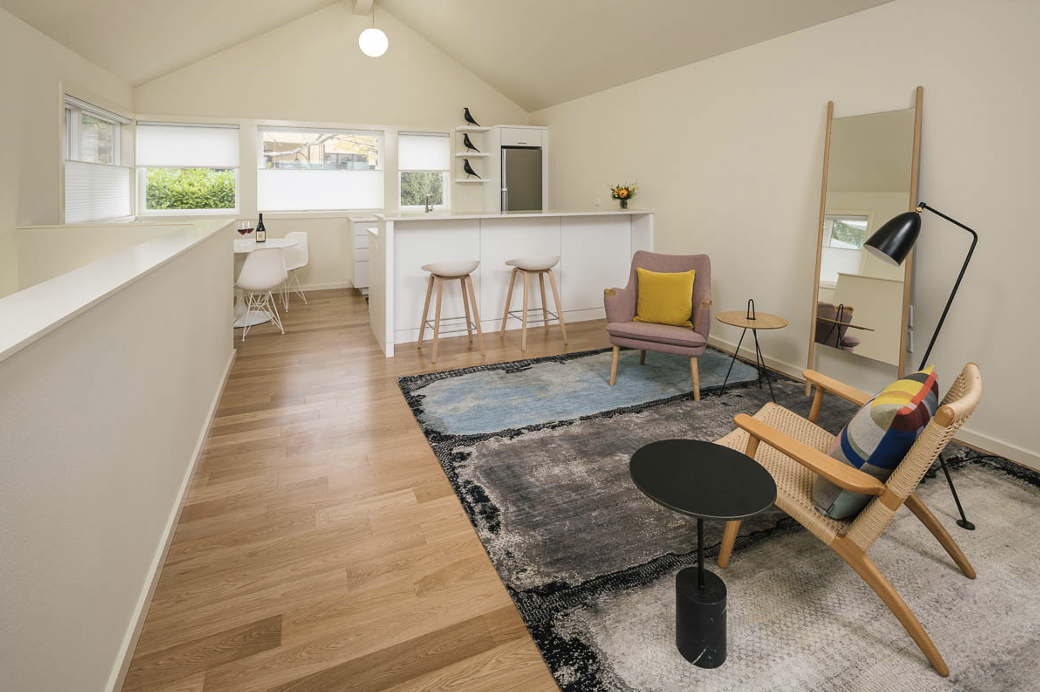 5. The kitchen – the center of many homes
With family constantly living together under the same roof, and for some, with extended family members, a multi-dimensional kitchen is more vital for coordinated, graceful living. Multiple kitchen work zones are important. Gray, white, and sometimes yellow colors are in. But we have also seen more use of bold colors, especially through tile and accents.
Recommendations when designing your home
When designing your remodel or new home, we recommend hiring an architect because they are experts in design, paying attention to the best ideas, lasting home trends, and visualizing the big picture on behalf of you, the client. They can render 3-D pictures so that adjustments can even be made "on paper" versus moving walls after construction. We strongly believe that a good architect will save you money and avoid expensive changes down the road.
At Hamish Murray Construction Inc., our expertise is all about building or remodeling signature, high-quality homes. We are collaborative planners and detailed executors. We prefer to collaborate during the architect's design phase so that your house plans will be kept within your overall budget.
Contact us
We'd love to hear from you. Contact us or call us at (503) 460-7203 with questions you have, or to tell us about your home plans.  
About Hamish Murray Construction Inc.
At every step of the way, we provide you the best service so that your new home exceeds your expectations. It's very important to us that we deliver on time and on-budget for all our clients. Through our strong relationships with architects, our employees, trusted trade partners and other construction professionals, we keep the project moving smoothly and on schedule. We proudly build you a home that will brings you joy for years to come.