Many people undertake a home construction project because there's joy in building something that is highly personalized. Yet it's not uncommon for homeowners to be surprised by the final construction costs.
At Hamish Murray Construction Inc., we don't think you need to have these surprises. We know how to navigate costs at each project stage, and we pride ourselves in delivering on schedule and on budget, while offering competitive rates.
In this article, we would like to pass some insights onto you so you know how to choose a strong contractor and how you can establish your costs, especially at the beginning of the project.
A low initial estimate may result in unwanted costs later
Many homeowners seek to establish a realistic budget before they make a final selection on a contractor and have project details drawn up. That's something you should expect to be able to do! At Hamish Murray Construction Inc., we prefer to get involved at the beginning of planning because, through our guidance, our clients can better manage costs and identify good building options.
We've seen homeowners choose the lowest contractor's estimate, only to see that price significantly change later. Here's one story.
Last year, we gave a homeowner in Portland a ballpark estimate before the homeowner's architect had completed the final schematic design. (For this stage of drawing, there is not much detail to create a solid estimate.) We estimated the project would cost around $750,000. Another contractor estimated this same project would be $300,000. The homeowner told us that he knew the estimate was probably too low, but he expected the contractor's final number to be somewhere in "the middle" of our two estimates, and lower than ours. So, he started serious discussions with this other contractor.
Three months later, the homeowner contacted us. Over time, this contractor's estimate had climbed from $300,000 to $850,00, and then two days' later the price was adjusted down to $720,000, with no changes in scope. With all the pricing discrepancies, this homeowner lost trust. We ended up being awarded the contract and we finished the home very close to our original ballpark estimate.
What did we do differently with our ballpark estimate, even without much initial detail? Perhaps we asked the right critical questions. We drew upon our experience across a wide range of homes types and materials. For remodels, we can also anticipate issues that we may uncover, such as knob and tube electrical wiring, possible dry rot or water issues, or hidden asbestos. For budget purposes, we prefer to error on the high side to help homeowners with a realistic budget.
As a homeowner, you will receive better estimates through the detail you provide
If you are not in the construction industry, you may not be able to fully discern if a potential contractor is providing the accurate budget you need.
We recommend bringing in a good architect. An architect can be your voice of reason on material wish lists, help with viable alternatives, and tell you when a contractor's estimate is in the range. A builder will have the best expertise on costs, but an architect can give good insights. We have several reputable architects in the Portland Oregon area that we can recommend to you.
Also, through your "INPUT", you can do some of your own work to help a builder or architect with a better budget:
Work with a reputable architect to help manage costs and your requirements
Through their design genius, an architect can best help you create that new home you want. Once you have approved the design, a good architect will outline enough detail on the construction plans so that there can be little interpretation on what is being built. Their written details help to control your costs.
It's important that you take time to understand the plans. An architect will present to you a 3D rendering so you can envision what your new home will look like. But, it's very important to ask questions. Not everyone can easily envision even a 3D walk-through! If you are not sure what you are seeing, do ask! The last thing you want to do is to walk into your home under construction and realize that a change is needed. If you ask for change orders to the layout at this point, you may incur some hefty additional costs.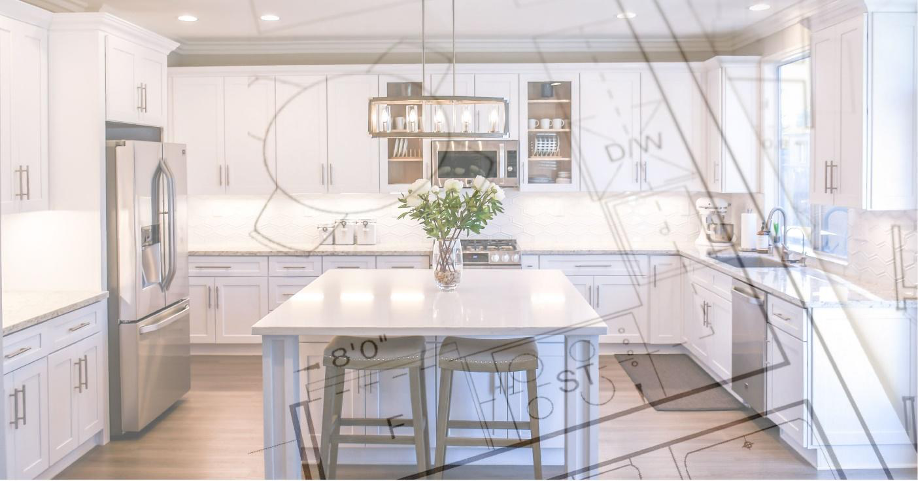 A homeowner should choose a contractor who provides lots of contract detail
Once you have construction drawings, you can now get a solid bid and contract from a home builder. However, we recommend that the builder's contract be full of detail; otherwise, there will be room for miscommunications, assumptions, and potential for surprise costs for you later on. For a custom home, such a contract should be 10 pages long or more, primarily outlining the job details and specifics you have requested, including your choice of materials. If the architect did a thorough job, much of the information will be in the construction drawings, but make sure that the requests you have made are placed in either the architect's documents in the builder's contract.
Photo of Hamish Murray Construction Inc. meeting with clients during a remodel
After strong upfront planning you can expect very few unexpected costs during construction
The construction phase should be a time of fun collaboration for you, working with your architect and builder. Yes, there will be small decisions made along the way where you will be asked for your preferences. Or, you may decide to upgrade a product, like a high-end stove or artisan cabinet knobs that you have just seen. But, if you have established good upfront planning documentation, any new decision will be easy and pleasurable.
At Hamish Murray Construction Inc., we pride ourselves in knowing not just how to build a quality home or remodel, but how to establish strong, detailed planning on behalf of our clients. We seek to bring your home dreams to life, while keeping your project within a realistic budget for you.
Contact us
We'd love to hear from you. Contact us or call us at (503) 460-7203 with questions you have, or to tell us about your home plans.