Protecting a home from rain may seem like a straightforward practice for builders in Oregon. Yet we've seen that, too often, something can go wrong. We want to share the importance of understanding some potential failure points so homeowners and architects can choose a builder who has quality practices in place.
Building inspections do not systematically address the building envelope
The building envelope includes the external walls, windows, and roofs that protect the inside from the elements.
You may be surprised to know that most cities have a limited process for building envelope inspections. They will inspect plumbing, electrical, and then the building with its foundation; making sure everything is to code, following the approved drawings. But very few building codes and inspections focus on the details of the building envelope. There is a code in the Portland area that requires a rain-screen, the breathing space between the weather-resistant barriers (WRB) and the siding. But it's not a standard practice to inspect the building envelope during construction. It's up to each builder.
It takes one mistake and you're chasing a water issue
Here's one painful example. You, the homeowner, have chosen a top-quality membrane material for your new modern flat-roof house. You've been told how the seams will be expertly ironed together, and your architect has placed a slight slope onto your flat roof to correctly drain water off. So far, this is all good. However, it only takes one tiny prick in the membrane by the roof installer, and you will be chasing that leak across your home. That leak will likely not "appear" near where the culprit hole. It can be quite the chase.
There's also a way that flashing can be installed that, with just the right conditions, like the wind direction and barometric pressure being just right, can create a leak and then only leak under these conditions. It becomes very difficult to recreate where the leak came from.
As one final example, consider this situation; your installers incorrectly work their way from the top to the bottom with the exterior weather-resistant barrier (WRB), typically using Tyvek. Now, you have the cracks between each piece of Tyvek exposed so that gravity can pull rain and moisture down through the cracks. We have seen this type of work in the industry.
Using fewer trade partners for the building envelope creates better accountability
Years ago, when we were new builders, we did what many standard residential builders do; we had the windows installed by one trade partner, and then another trade partner installed the siding; exterior sheathing, siding, weather-resistant barrier, caulking, and flashing. Often, things ended up fine, but we didn't like having any issues for our clients.
Since those earlier times, we now have one long-term trade siding partner we use who has earned our trust and is responsible for all of the siding; windows, exterior sheathing, siding, weather-resistant barrier, caulking, and flashing. We have another trade partner who handles the roofing.  It means that if the job is not done correctly, it is much easier to pinpoint the source and find a solution quickly with fewer trade partners.
Having a contractor who keeps up with building science helps
Older homes have a natural airflow, so that when moisture builds up, there is air circulation for the moisture to dry up. But these homes have their leaks, and so our building science has come a long way. In today's home, it is so buttoned up and tight that we need to add in extra breathing material. This is just one example of how things have changed in the way we build. There continues to be improvements to make homes more durable. We believe that a quality contractor pays attention to all these changes. Every time there's one change it can affect other aspects of the home.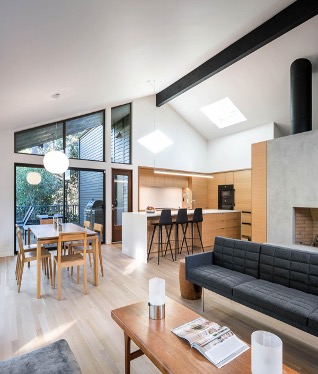 Remodels and opening up the building envelope must be done with care
If you add a skylight, a dormer, or a new space, there needs to be more planning for protecting the rest of the home. Ideally, you open up your home in July through October. Some projects can only be done during these months, because the cost would be too prohibitive during the wetter season.
In an ideal world, you don't ever touch your building envelope, but it can be done, at least with solid builder expertise. For example, if you want a skylight, you need someone who understands how far back to take the roofing and how to handle the flashing.
If you plan a phased remodel, it's better to plan it so that you don't add a second floor addition over top of a recently finished kitchen or other remodeled room. It just costs more money and time to protect the rest of your home.
What our clients are building for better living during the rainy season
If you are thinking about a home project, consider breezeways or patios that you can use 10 months out of the year, and that are possibly heated. We've had a number of clients request these outdoor spaces, especially since the pandemic. Also, we have noticed what a difference bigger windows and skylights can make for bringing natural light into a home, which can be so important during our darker and wetter months. Overhang roofs are also appealing both as a place to sit outside and for keeping the water off of the home.
We would be happy to talk with you about your project
At Hamish Murray Construction Inc., we pride ourselves in knowing not just how to build a quality home or remodel, but how to build on schedule and on budget. We would be delighted to talk with you about your project ideas. We are the builders and we work with the designer or architect of your choice. We seek to bring your home dreams to life, while keeping your project within a realistic budget for you.
Contact Us
We'd love to hear from you. Contact us or call us at (503) 460-7203 with questions you have, or to tell us about your home plans.