We all depend on our cars. That's why many of us will do some solid research prior to buying a car. We look for reliability, visual appeal, and performance throughout.  
Similar to the varying quality of cars, not all aesthetically pleasing homes are built equally. Like the car engine, hidden away from view, a house has many vital components that can perform well or cause issues after a family has moved in. At Hamish Murray Construction Inc., heeding attention to these vital, hidden components is very important to us. We know when to recommend and use various construction products, depending on a remodel or new construction.
We can guide a client on their options for anything in walls, foundations, roofs, and ceilings, explaining technical details when there is interest. We prefer to be involved early in the planning and design so that relative costs are identified and the best option for a client is chosen.
1. Building for a long rainy season – the roof
In Portland, the rainy season may start as early as November and end as late as June. After the rain begins, you don't want to be chasing leaks!
Any roofer can build an attractive-looking roof, working with construction paper and shingles. But, depending on the architectural design, we've seen how standard materials may not be enough. In addition, it's not feasible for a general contractor to keep checking a roofer's work-in-progress as the work moves fast. When it comes to that critical roof, we believe your roofer needs to be a long-term and trusted trade partner — someone who deeply understands how to waterproof without question so that a roof performs well over time. It's just too important.
Often, a premium custom home will have more roofs and angles, creating complexity for roof drainage. These design advantages can also create more water vulnerabilities. Flashing in the right places is absolutely critical and a first in a roofer's arsenal for mitigating future leaks.
The most challenging type of work in Oregon is building a flat roof. It's where one should never cut corners! A completely flat roof in Oregon is like putting a swimming pool on top of your house. We recommend building a slope for a "flat" roof, even if it's extremely shallow. Also, a waterproof underlayment such as asphalt membrane can prevent water, moisture, and mold from penetrating into the roof deck.
2. Other considerations for rain
When the house has a modern design, wide overhangs keep the water well away from the house, so consider that beautiful and practical design.
But, the foundational area is much more critical for safeguarding the house from water. One of the materials we often use is called "dimble drain board", and we find that it works better than spraying other products onto the foundation for protecting the house. We'll also pack the front of the drain board with gravel drain rock. This level of protection will ensure you don't get moisture underneath the house. Putting solid quality measures into the "buttoning up" of a house at the foundation will give you a safer, healthier environment.
3. Plumbing considerations for a quality home
When plumbing is planned well, there's no need to wait for hot water. You'll have plentiful water with good pressure, and when you use the toilet, all will be quiet in the walls.
When building a ranch-style house, you need to pay attention to the distance that water travels from the hot water heater to each destination. Delays in hot water can be avoided and are best addressed when you are doing the roughing, versus trying to retrofit a solution afterwards.
For multiple story houses, consider the vertical runs on drainage pipes. Although cast iron pipe is an upgrade, compared to standard ABS pipe, the advantages of a quiet cast iron pipe are a good option, and on the flat horizontal pipes, one can switch it back to ABS to keep the costs down.
4. Acoustics and soundproofing floors, ceilings and walls
When a contractor talks about placing "batts in the walls and ceiling", that may not be your solution for a truly quiet house. Wood is a conductor of sound and there are more options than just standard insulation.
We are currently building a home where the husband will have a music room, and right above that room will be the wife's office. These two rooms would never be compatible in a standard-built home. However, by staggering studs, using suspended ceilings and acoustic sheetrock with fancy acoustic glue, we can create the needed quiet, domestic harmony in such a house. You may not need a music room or even your own recording studio, but you can do better for key areas where you want quiet by soundproofing instead of using standard insulation.
5. HVAC – Heat Ventilation and Air Conditioning considerations for quality
This is where we often give input during client and architect meetings: getting the right ducts in the right places before spaces are finalized. Yes, we rely on our long-term HVAC trade partners for the best expertise, but typically we can alleviate concerns at the house design stage before they need to be consulted.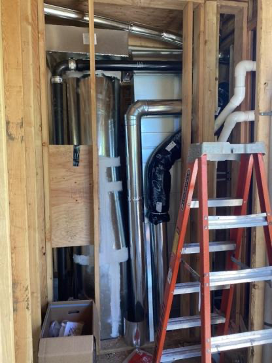 Ducting is often placed in the attic, yet attic ducts have lower energy efficiency. Sometimes a few good minds working together can come up with very plausible alternatives.
The other thing that may be overlooked is trying to accommodate a duct in a joist that is just short of what's really needed. Some ducts are as large as 24" in diameter and those definitely need strategic attention.
Finally, these days, new houses are sealed up so well that the internal air can get stale. There are solutions for freshening the air, like a heat-recovery ventilator, that enable air cycling throughout while maintaining energy efficiencies.
We are experts in achieving the best quality construction during the planning phase
At Hamish Murray Construction Inc., we recommend working with an architect so that you can realize your best vision for your future home. Architects are experts in design, while we are experts in construction. We pride ourselves in knowing not just how to build, but how to choose the right material or product for the best quality home, built to last.
Contact us
We'd love to hear from you. Contact us or call us at (503) 460-7203 with questions you have, or to tell us about your home plans.